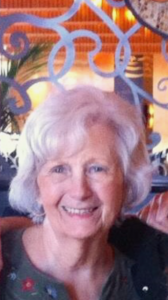 Mary Helen Andrich was born in Fort Worth, Texas on November 25, 1929. She was the only child of Albert and Nellie (Horton) O'Neil. She passed away early Sunday morning, November 24, 2019, one day before her 90th Birthday. Her Daddy owned a cigar store in Fort Worth and her Mother was the State Treasurer of Agriculture in the Farmers Union. She graduated from the University of Texas in Austin in 1950 where she received a Bachelor of Arts Degree. She met her future husband, Stephen Andrich, at a school dance. Stephen was attending Texas A&M at the time. They were later married and eventually celebrated their 65th Anniversary. Growing up an only child she always wanted a big family and she got her wish. She was a wonderful wife and mother who raised six children, four boys and two girls. Her love and kindness continue to guide us. She was also an outstanding artist, a great admirer of the Impressionist art style and in particular, the French artist Claude Monet. She continued to paint until her later years. She leaves behind 6 children, David, Michael, Don, Cathy, Tony, Carolyn; 14 grandchildren & 17 great grandchildren.
A Visitation will be held on Wednesday, December 4, 2019 from 12 Noon – 1:15 pm followed by a Funeral Service at 1:15 pm
Crowder Funeral Home, Webster, TX. Interment will be at Forest Park East Cemetery – Webster, TX.