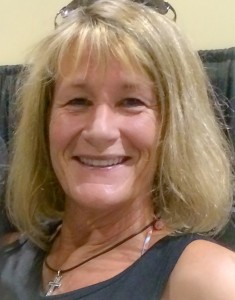 Mary Evelyn Kelly, 49 of Texas City passed away Wednesday, May 27, 2015 in Galveston, TX. Born on January 15, 1966 in Texas City, she was a lifelong resident of Galveston County and worked at Shriners Hospital for 15 years. Mary enjoyed spending time at the Texas City Dike, loved summertime in the pool, and hated the winter. Always ready with a hug for her dogs, Simba and Bear, she was a wonderful wife, mother, G-ma and friend.
Mary is survived by her mother Kay Clark; husband Charlie Kelly, Sr.; daughter and son-in-law Chasity and James Hensley; son Charlie Kelly, Jr. and girlfriend Amber & her children; brother David Clark and wife Nancy; grandson Michael Kelly; best friends Libby and James Stone, Renee Goff, and numerous friends.
A Memorial Service will be held at 11:00 am on Monday, June 1, 2015 at Paul's Union Church in La Marque with David Simon officiating. Arrangements are under the direction of the James Crowder Funeral Home in La Marque. In lieu of flowers, please make donations in Mary's name to Shriners Hospital in Galveston.