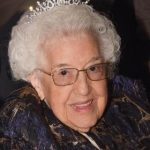 Mary "Esther" Smith passed away on Sunday, August 11th, 2019 at The Crossings Assisted Living Center in League City, Texas.
Born on Friday, January 07, 1927, in Aztec, New Mexico to Thomas Jacques and Lillie Clotilde Pilon Jacques.
Esther was raised on a ranch in Bondad, Co. attending a one room schoolhouse. She graduated from Durango H.S. and attended C.U. Boulder for one year. A very progressive and dynamic person. Leaving Durango, Colorado at the age of 20 she ventured to San Francisco, California to support the War effort. It was there she met her husband Jess, known affectionately as "Jack" who passed away in 1965. She remarried in 1971 to Concord Fire Chief Ronald W. Sandman, who passed away in 1975. In 1977 she married Ronald C. Smith of Concord, California. She went back to college in 1978 to receive her Bachelor of Arts degree from the University of California, majoring in History "Women of Renaissance Italy: . She lived in Northern California for most of her adult life until the death of her husband in 2015. She moved to Houston Texas to be with her two sons in 2016.
Preceded in death by… Her father Thomas Jacques, Sr., her mother Lillie Clotilde Pilon Jacques, her two sisters Ruth Knight and Evelyn Pearson, her two brothers Thomas and Raymond Jacques, her husband's Jesse Lee Gordon, Ronald Sandman, and Ronald C. Smith
Survived by her sons Jess and Roger Gordon of Texas, stepdaughters Sharron Madison, Rosie Picchi, Judy Sandmann, Carol Sandmann, and , step-sons Ronald, Dennis, and Dean of California, grandchildren Patrick Gordon, Roger Gordon and Jackie Gordon of Texas, and Jenaya Gordon of Colorado.
Esther was a long-time employee of the IOEE and Contra Costa County Court system in Martinez, California.
Visitation to be held on Saturday August 24th at 9:30 AM with services following at 10:30 AM at Ouimet Funeral Home 4125 Clayton Rd. Concord, Ca. Internment following services at Queen of Heaven Cemetery 1965 Relize Rd, Lafayette Ca. A luncheon will be held follow internment at the Embassy Suites, 1345 Treat Lane Walnut Creek.