Mary Ernestina Navarro "Nana"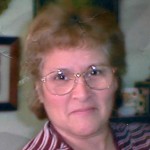 Mary Ernestina Navarro "Nana", 66 of Freeport, TX passed away surrounded by her family on March 18, 2014 in Houston, TX. She was born November 11, 1947 to Hilario and Maria Martinez in Encinal, TX. Mary belonged to St. Mary's Star of the Sea Catholic Church for many years. She was preceded in death by her parents and her older sister, Carmen Carrizales.
Mary's life was devoted to her children, grandchildren and anyone else in need. She was a surrogate mother to many lost souls that showed up on her doorstep. She will always be remembered for her loving nature, her humor and her ability to make everyone feel at home. She was the best mother, grandmother and sister we could ask for and we will surely feel her absence in our lives but we are comforted by her wonderful memories and the many lessons she taught us.
Mary is survived by her loving family, her daughter, Yuri Navarro; sons, Russell Martinez and wife Shelley, Michael Martinez and wife Casey, Xavier Navarro, and Joseph Navarro; sisters, Antonia Flores, Isabel Martinez, Julie Ramirez, and Maggie Gosinski; brothers, Jesse Martinez, Frank Martinez and Joe Martinez; and five grandchildren, Michael Martinez II, Hailey Smith, Riley Martinez, Jeremy Martinez, and Reagan Martinez.
A memorial service in her honor will be held March 22, 2014, 2:00 p.m., Crowder Funeral Home Chapel, Dickinson, TX.
In lieu of flowers please make donations to the American Diabetes Association, 2400 Augusta Drive, Houston, TX 77057-4989