Mary Ellen Martinez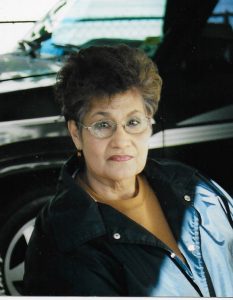 , 77 of Texas City, passed away Friday November 25, 2016 in La Marque, Texas.
Mary was born September 26, 1939 in Palestine, Texas, the daughter of Tomas Rios and Maria Campos Rios. She was a resident of Texas City and a member of St. Mary of the Miraculous Medal Catholic Church in Texas City. Mary was a school teacher, who taught in the catholic school system. She began her journey as a volunteer at Our Lady of Fatima School. She was notorious for her Bulletin Boards and would always take pride in this assignment. She was always looking forward to her next masterpiece. Mary was an excellent cook with many of her own specialties. She made sure we learned to swim, read, dance, arts and crafts, music, ballet, tap, jazz, photography, and even helped us raise a Grand Champion Lamb of Galveston county FFA.  As a devout catholic she made sure that we completed our sacraments and taught us to always have Faith in God and Our Lady of Fatima. Mary is preceded in death by her parents, brother, Johnny Rios, sister, Cruzita Garcia and loving husband Cruz Coronado Martinez of 55 years.  She is survived by her two daughters, Yolanda (Londa) Marie Gonzales and Veronica (Ronnie) Lynn Martinez; one son, Daniel Edward Martinez; granddaughter, Madison Lissette Gonzales; two Sisters Connie Villarreal and Annie Bosquez; aunt, Janie Garcia; numerous nieces and nephews and loving pets Dottie and Cody.
A special thank you to The Seasons Personal Care Home for the care of mother, thanks to Robyn and her husband Dr. Darey Philbrick, Dr. John Lewis, Dr. Bich Nguyen and to Heart to Heart Hospice nurse Tammy Garcia. The Seasons Personal Care Home helped our mother transition to peace and I will always be grateful for the day I met the owners of this home. I know that they were sent to me by God.
Visitation will be Wednesday, November 30, 2016 from 5:00 to 8:00 pm with a Rosary Service at 7:00 pm at the James Crowder Funeral Home in La Marque, with Vincent Tran, officiating. Funeral Mass will be 10:00 am Thursday, December 1, 2016 at St. Mary of the Miraculous Medal Catholic Church in Texas City, with Father Clint Ressler, officiating.  Pallbearers will be Barret Ketchum, Daniel Martinez, Alex Gallardo, Michael Gallardo, Brian Lee Cuello, Mike Agol.
In lieu of flowers donations may be made to the Alzheimer's Associations of Galveston County and the Texas City Animal Shelter.