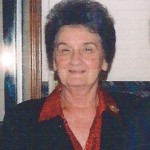 Mary Eleanor Byrd Bolton, 90, of Texas City, TX, passed away Sunday, November 02, 2014, at Gulf Healthcare Center, in Texas City, TX. Mary was born February 20, 1924, in Galveston, TX, to parents, Rube and Sophie Byrd. Mary is a member of St. Mary of the Miraculous Medal Catholic Church, in Texas City. She met the love of her life, Robert Lee Bolton, Sr., in Galveston and they were married November 21, 1941. They moved to Texas City in October, 1946.
Mary is preceded in death by her parents, husband, Bob Bolton, 2 brothers, Ruben Byrd and Rice Byrd; 2 sisters, Mildred Baker and Rosalee Marchand, and daughter-in-law, Kay Bolton.
She is survived by one sister, Lorraine Byrd Pruitt and husband, Billy, son Bobby and his children, Dawnell Goetschius (Brian), Monica Montegut (Myles), Lee Bolton (Carolyn), Rachel Lively (Jason), Luke Bolton, and Sophie Chapman (Blake), and son, Michael Gary Bolton Sr. and wife, Cynthia, and their children, Michael Gary Bolton, Jr. (Irma), Stephanie Bolton, and Geny Bolton (Tim White), 24 great grandchildren and one on the way, sister-in-law, Lillian Jamail, and many nieces and nephews.
A visitation will be held on Tuesday, November 4, 2014 from 5:00pm – 7:00pm with a Vigil & Rosary at 7:00pm with Deacon Steve Mistretta. Funeral service with be at 11:00am on Wednesday, November 5, 2014 at St. Mary of the Miraculous Medal Catholic Church, Texas City, with Father Gary Rickles officiating. Interment will follow at Mt. Olivet Catholic Cemetery, Dickinson, TX.
Pallbearers will be: Michael Bolton, Duane Pruitt, Dennis Byrd, Wayne Byrd, Lee Bolton, and Jared Goetschius. Honorary pallbearers will be Billy Pruitt and Marcos Ross.
The family would like to thank the staff at Gulf Coast Health Care Center, Texas City, for their dedicated service given to their mother and Mamaw.