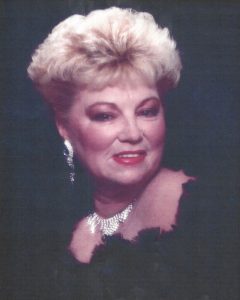 Mary Ann "Micki"(Miller) Czarnik passed away on Sunday, January 8, 2023 at home in League City Texas. She was born to Fred and Ellen (Dossinger) Miller on 17 January, 1936 in St. Louis, Missouri. Her parents, brothers Fred Jr. and Thomas Miller preceded her in death. Mary Ann and Marvin Czarnik were married at Trinity Lutheran Church Soulard November 24, 1955 in St. Louis Missouri; Marvin proceeded her in death in 2001. To carry on her Legacy are children: Kristie (Carl) Jones, Carol Czarnik, and (Late) Sharon Czarnik. Grandchildren: Matthew Jones, Monica George, Erica Balaban, Cara (Damon) Janner, Amber Kaplan; Great Grandchildren : Gloria Jones, Colby Balaban, Rose Jones, Parker Balaban, Kristin Scallan, Kamryn Janner and Arie Jones. Nieces and Nephew: Scott Miller, Kim Whatley and Ellie Flesch and their families.
Visitation:  Thursday January 12 5-6 p.m. at Crowder Funeral Home Webster Texas.
Service:  Thursday January 12, 2023  6 p.m. at Crowder Funeral Home, Webster Texas
Reception:  January 12, 2023, After Service Crowder Funeral Home  Reception Room, Webster Texas
Burial:  January 13, 2023, 9 a.m., Mt. Olivet Catholic Cemetery, Dickinson, Texas
In lieu of flowers donations to Forgotten Angels Foundation (forgottenangels.org) or charity of your choice.
Micki was strong in her Faith. She was active in Gloria Dei Lutheran Church participating with the Holy Smokers BBQ team, the Daisies, mission trips and the CALMS Group. The family thanks Pastor Kieschnick, and Jim and Shirley Orbett for the spiritual support when it was most needed.
Micki loved people. Her infectious charisma and outgoing nature drew people in. She enjoyed the Nasa Rotarians and was proud of the work she participated in through that group. There were those in her life that became "family" although friends, Bill Geissler, Trudy Davis, Ernie Warrick, Rich Counts and Debbie Scates. She loved you all and couldn't imagine her life without you in it.
The family wishes to thank Dr. Abdellatif and his staff for the care provided and her favorite Nurse Lori Riley. Jody and Mandy and those of Traditions Hospice Care Team, may God continue to bless you as you blessed us with your compassionate care. We cannot thank you enough.