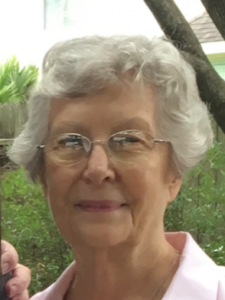 Mary Alice Rice, beloved wife of James W. Rice went peacefully to God's kingdom on January 26, 2016 at her home surrounded by loving family.
Mary Alice was born in Sabetha KS on November 23, 1932 to Edward M. Boeding and Mary (Mohan) Boeding. She attended St. Peter and Paul grade and high school in Seneca KS and Benedictine College in Atchison KS.
She is survived by her husband James, six children Michael (Leslie), Catherine (Terry), Mark (Francesca), Patrick, Timothy (Dawn) and Eileen along with nine grandchildren. She is also survived by her siblings Jim Boeding and wife Mary Jane, Paul Boeding and wife Marilyn, Kate Dowd and husband Walt, sister-n-law Lola Boeding and many nieces, nephews, cousins and friends. She is pre-deceased by her brother Alexis.
She worked for Braniff Airways in Kansas City where she met and married James W. Rice in 1956.
In 1967 she followed her husband to California and then to Houston to participate in the moon landing effort. In 1972 she and her husband Jim started Rice Aviation (later renamed Northrop Rice USA Inc) She has been the Chief Executive officer for 44 years.
Mary Alice was actively involved in many organizations including the Northrop Rice Foundation, Aviation Technician Education Council, Interfaith Caring Ministries, Association of Women in Aviation and Church Women United. Her philanthropic efforts have been with these and other organizations including Indian Educational centers and U.S. National Parks.
Services will be held at St. Mary's Catholic Church, 1612 East Walker, League City, TX on Thursday, February 4, 2016 at 10am.
In lieu of flowers, you may send memorials to a charity of your choice.