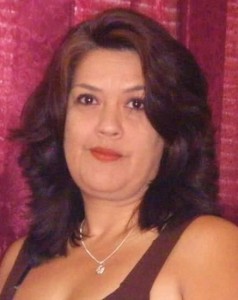 Mary Alice Perez, 48, resident of Spring, Texas passed away unexpectedly, on Saturday May 14, 2016. Mary was employed with United Airlines for 16 years. She was born July 30, 1967 to proud parents, Simon Perez and Odelia Heinemann Perez in Sinton, Texas.
Mary was a loving and giving mother, grandmother, daughter, and sister. She leaves to cherish her memories, husband, Joe Marcano; daughters, Erica McRight, and Stephanie Guidry and husband Damon; four sisters, Clara Chupe and husband Demetrio, Elena Garza and husband Alfred, Rosie Jez and husband Jack and Frances Gonzales and husband Julio; and a brother, Johnie Perez; as well as three grandchildren, Brendan Joseph McRight, Jai Gaind, and Elizabeth Cameron and numerous nieces and nephews.
A memorial service will be held in her honor on Sunday, May 22, 2016 at 10:00 am, at Crowder Funeral Home Chapel, 851 FM 517 W. in Dickinson, Texas.