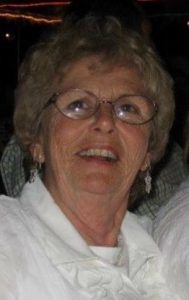 Mrs. Martha Jane Branch was born November 17, 1938 in Kirbyville, TX to Ezell and Bertha Golden and passed away peacefully in her home with her family by her side March 21, 2017.  Martha was formerly of League City, TX and moved to Shelbyville in 1991.  She enjoyed traveling with her husband and also loved taking girl trips with her daughters.  Martha enjoyed hosting family gatherings, and the highlight of her year was the annual Branch/Golden family reunion, many times held at the family home on the hill in Shelbyville.  Another event each year was the arrival of C.R. and his friends who came every November to their property to hunt and enjoy Miss Martha's home cooking.  She took great pride in her family's many accomplishments, and her grandchildren and great-grandchildren were a special source of pride and joy.  Martha was known as "Nanny" by her grandchildren, and that name was used by nearly everyone who knew and loved her.  Her door was always open and there seemed to be a never-ending parade of people stopping by to visit with Nanny throughout the years.  She truly lived her life in service to her family, and was the most content when we all were gathered at her home.
Martha is preceded in death by her parents; sisters: Jackie Williford and Wanda Duerr; brother, Dean Golden, and by her youngest son, Curtis Roy Branch.  The family takes comfort in knowing that they are now together again.
Her memory will be cherished by her husband of 61 years, Raymond Branch; daughters: Barbara Vaughn, husband Robert, Brenda Sullivan and Bonnie Branch; son, C.R. Branch, wife Debbie; eleven grandchildren and fourteen great-grandchildren; brothers: Gene Golden, wife Jeanette, Mack Golden, wife Helen; sister, Alice Berry, husband Mike, numerous nieces and nephews and other loving family members.
A visitation will be held Friday, March 24, 2017 from 11am – 2pm at Crowder Funeral Home in League City with the funeral service to begin at 2pm.  Burial will follow at Forest Park East Cemetery.
Pallbearers will be: Jack Holland, Eric Sullivan, Randy Sullivan, Cory Ivey, Ryon Vaughn and Travis Branch.
A special note of thanks to Bonnie for all her loving care of Mom throughout these last years.