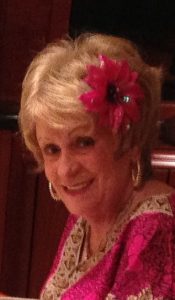 Martha James, (Sugar) of League City Texas, passed away on Thursday, May 4,2023 in Webster Texas at the age of 73. She was born on May 20, 1949 in Birmingham, Alabama to Zach and Ethel Martin.
Martha graduated from the University of Alabama with a teaching degree and spent a number of years teaching in the Houston School District. Martha was a member of the Presbyterian Church. She was very active in the Beta Sigma Phi Sorority and also the Bay Area Welcome Neighbor Club. Martha worked with her Husband Billy Mack in Tulsa Oklahoma in their very successful Tire Group Wholesale Corporation. Billy Mack was the love of her life and they were married for 35 ears. Martha liked to correspond with her Nephews and nieces and enjoyed all of the parties and get togethers at their Ranch and boating trips. She loved to read the local newspaper and kept her friends and family informed on what is happening in the area.
Martha is preceded in death by her husband William (Billy) Mack James, her Mother and Father Ethel and Zach Martin.
She is survived by her sister Nancy Martin Block and husband Robert. Her two Nephews Robert and Christopher Block their wives Carol and Angela and their children Karah, Leah, Natalie, Ashley and Lexi Block.
The family will receive friends on Thursday, May 11, 2023 at 11:00 am with a Celebration of Life Ceremony at 12:00pm at Crowder Funeral Home, 1645 East Main Street, League City Texas 77573 with Pastor Brad Heintz officiating.
Interment will follow the Ceremony at Mount Olivet Cemetery in Dickinson, Texas.
Family requests that donations instead of flowers be sent to the St. Jude Children's Research Hospital in Memphis Tennessee. Website https://childrenscancer.org/