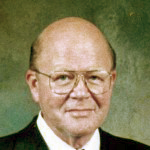 Marshall Bruce Fort, 72, passed away on March 27, 2014. Bruce was born on July 3, 1941, in Ft. Worth, Texas, to Marshall Wilson Fort and Melinda Elizabeth "Beth" Fort. In his youth, Bruce was active in Boy Scouts, attaining the Silver Award as an Explorer, and an accomplished amateur astronomer. In High School, Bruce was on the wrestling team for Coral Gables High School in Miami, Florida.
Bruce obtained his Bachelor's degree from Emory University in Atlanta, Georgia. He then continued his studies at the University of Houston School of Law attaining his Doctorate of Jurisprudence. During law school, Bruce became a member of the Phi Alpha Delta law fraternity.
Bruce began his 46-year legal career by serving as an Assistant District Attorney at the Galveston County District Attorney's Office. He later opened his own solo practice as M. Bruce Fort, P.C. He was named "Outstanding Young Lawyer" by the Galveston County Young Lawyers Association in 1974. Continuing his dedication to the practice of law, Bruce was Board Certified for Legal Specialization in the fields of Criminal law and Personal Injury law.
Bruce was an avid fisherman and skipper. He first captained the Sou'wester, then the Barrister which was a source of great pride and won the first place trophy in the 1994 Poco Bueno Fishing Tournament.
Bruce was preceded in death by his parents. He is survived by his devoted special friend, Linda Nickelson; his daughter, Mary Elizabeth "Beth" Nunn and spouse, Gary D. Nunn of Alabama; his brother, Ronnel "Ron" Lynn Fort and spouse, Lynn Meyer Fort; his grandsons, Arturo "T.J." DeWalt Vega and Alexander Marshall Vega; his nephews, Christopher Marshall Fort and spouse, Isabelle Valdes Fort, and Taylor Meyer Fort and fiancée, Judy Lee; his grandnephews, Marshall Wilson Fort and Seve Valdes Fort; and numerous friends and colleagues.
A visitation will be held on Tuesday, April 1, 2014, from 11:00 a.m. to 1:00 p.m., at Crowder Funeral Home, Dickinson, Texas, with a memorial service following at 1:30 p.m. There will be a private interment at a later date.