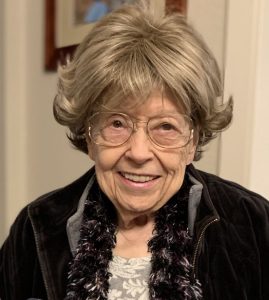 Marlene Adams Bunn, 91, passed away on August 26, 2023 surrounded by her loving family.  She was born on July 20, 1932 in Kansas City, KS.  She was an amazing woman, demonstrating strength and courage with grace.  She always took pride in any project that she undertook and always performed exemplary work. She was a wonderful role model for her family and friends. Her fun loving nature and wisdom will be missed by all that knew her.
Marlene earned a Bachelor's degree from Colorado College in 1961 and later a Master's degree from Webster University in Kansas.  She taught grade school a total of 34 years and instructed part-time at Kansas University.
Marlene was preceded in death by her husband, O J Bunn, Jr, her parents and three brothers.
Survivors include her daughter, Anita Denson; son in law Mark; grandchildren Jason, wife Lisa; Laura, husband Russ; Lee, wife Lindsay; and greatgrandchildren Lily, Eden, and Abigail.
There will be a Celebration of Life Ceremony Friday, September 1, 2023 at 7:30 PM in the Crowder Funeral Home Chapel, Pearland, Texas.