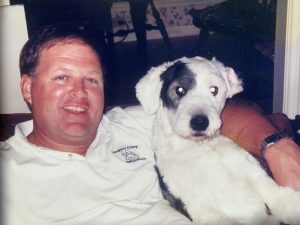 Mark L. Adams, 72, of Dickinson, Texas, made his transition peacefully at home surrounded by family on May 14, 2020 after a long and difficult battle with cancer. He was born on October 30, 1947 in Colfax, WA and raised by his parents, Colonel Earl R. and Mary Lee Adams who preceded him in death. Growing up, Mark moved from place to place as the U.S. Army transferred his family throughout the US, Hawaii and Japan.  After graduating high school in Columbus, Georgia, 1965, Mark attended Murray State University (MSU) in Murray, KY, where he briefly played baseball for the MSU Racers, prior to an injury, and became a member of the Sigma Chi fraternity.  While in college he was drafted by the U.S. Army and served just under 2 years of active duty prior to the Vietnam War ending.  He then returned to MSU and graduated in 1974, while also completing four years of inactive duty.
While at Murray, he met a young woman, Miss Kent Smith, who would later become his wife in 1976.  In the same year, he began a career as a public school teacher and basketball coach in the town of Dawson Springs, KY.  As the young began their life together, they looked to create a family and would go on to have three children while living in Dawson Springs for 10 years.  In 1987, the family made their home in Friendswood, TX just south of Houston.   Mark taught middle school and coached basketball and football in the Clear Creek Independent School District for 25 years, primarily at League City Intermediate mentoring students and building lifelong friendships. He supported his own children in football, theater and baseball, sometimes as their coach.  His favorite pet was Baily, the family's Old English sheepdog. Throughout both communities in KY and TX, he was loved and respected by his students, players, fellow teachers and coaches.  Always, he was known as "Coach" who inspired many.  Mark attended St. Mary Catholic Church in League City, TX.  Though he and his wife divorced in 2001, they remained friends and spent time together as a family.  He met Lenore Walker in 2004 who remained a dear friend.  Mark retired in 2012 splitting his time between his home in League City, Texas and the Adams's family beach property on Camano Island, WA.
Mark's final years were spent enjoying time with his siblings, children, grandchildren, and friends.  He loved reading novels, wood working projects in his garage, and golf in his earlier years.  He could also be seen in the stands of a sports complex supporting a former player.  Survivors include his brother and sister, Scott Adams, Mount Vernon, WA and Susan Newman, Everett, WA, ex-wife and friend, Kent Adams, League City, TX, son Christopher Adams, his wife Laura and their two children, Derrick and Alexandria, Friendswood, TX, daughter Elizabeth Adams and son Matthew Adams, League City, TX, friend Lenore Walker, Friendswood, TX and several nieces and nephews.  A man of honor and great, yet subtle strength, Mark Lee Adams will be remembered as a dedicated father, friend, teacher, and coach.
Mark's family and friends will celebrate his life at the Crowder Funeral Home in Dickinson, TX at a time yet to be specified due to the ongoing coronavirus pandemic.  The celebration will be streamed live.