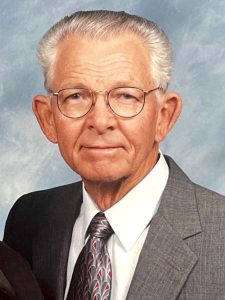 Marion Vernon Williams, 89, of Galveston County, never liked to travel. The only trip he ever really looked forward to was going home to Heaven, which he finally got to do on Monday, Nov. 7, 2022, when he passed peacefully at home with family at his side.
Vernon was born Oct. 24, 1933 in a one-room home in Francis, Oklahoma, and was the oldest of three children. He graduated from Cedar Bayou High School in 1951, then attended Lee Junior College in Baytown. In December 1954, he enlisted in the U.S. Army and served two years in a Project Nike anti-aircraft missile battalion.
Vernon's wife, Marie, was his younger sister's childhood friend. The funny, freckled redhead ended up being the love of his life. He wore a white sports coat on their wedding day — Aug. 7, 1959.
After Hurricane Carla destroyed their Texas City house, Vernon found acreage for sale on the Dickinson-Santa Fe line. It would become the oasis that has been "home" to four generations since 1965. He divided the land with his mother and built their homes with his own hands. He later would build his daughter's family home right next door.
A longtime member and former deacon of Midway Church of Christ in Hitchcock, Vernon was faithful and hardworking all his life. A bulk of his career was spent as an insulator, working on schools, hospitals and other buildings. He worked for Williams Insulation from 1960 to 1998 and was instrumental in the company joining the local union.
Vernon could build anything from the ground up, from cat condos and swing sets to decks and entire houses. He could grow anything, too. After retiring, he built a greenhouse to grow tomatoes year-round, and he set up a stand at the end of his long driveway, where people lined up from miles around to buy his fruits and vegetables on an honor system.
As his memory faded, Vernon never lost his stubbornness, his strength, his playfulness and sense of humor, his love for the outdoors, or his love for Marie.
Vernon was preceded in death by his parents, Lucille and Marion Williams; brother, Wayne Williams; brother-in-law Patrick Kelley; and many other loved ones. He is survived by his wife of 63 years, Allie Marie Bennett Williams, of Santa Fe; sister Juanice Kelley of Nunnelly, Tenn.; son Eddie Williams and wife Tammie of Pasadena; daughter Karen Johnson, Dr. Michael Wisnoski and his daughter Katie of Santa Fe; granddaughter Kristy Callaway, husband Brandon and their son Emmett of Corpus Christi; grandson Curtis Gillentine and Sarah Buerger of Santa Fe; granddaughter Jessica Williams, wife Lauren Smith and their children Eli, Elaina and Cash of Santa Fe; and grandson Thomas Williams, wife Abby and their children Adelyn, Anistyn and Bennett of Beaumont; plus nieces, nephews, a church family, and longtime friends who will miss him dearly.
Visitation is set for 10:30-11:30 a.m. Monday, Nov. 14, 2022, at Crowder Funeral Home in Dickinson, with memorial service beginning at 11:30. Burial will follow at Forest Park East Cemetery. Pallbearers are Curtis Gillentine, Thomas Williams, Brandon Callaway, Michael Wisnoski, brother-in-law Bill Wilkie, and nephew Gary Kelley. Honorary pallbearers are nephew Kelly Wilkie and Walter Manuel of Village Home Health and Hospice.