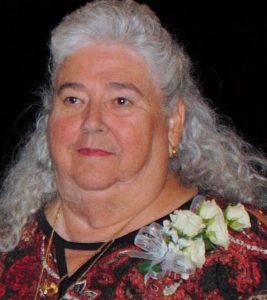 Marie Lucille Vawters, 72, resident of Algoa, Texas, passed from this life, Friday, September 6, 2019 surrounded by her loving family. She was born July 12, 1947 to proud and caring parents, Frank and Adelle Ghinaudo in Galveston, Texas.
Marie grew up in Galveston County where she met and married the love of her life, Clyde Vawters, from their union they happily received their three children, Timothy Vawters, Eva Vawters, and Michael Vawters. Her working career was spent as an auditor for Galveston County for over 25 years. Marie was a member of Our Lady of Lourdes Catholic Church, a member of Our Lady of Lourdes Altar and Rosary Society, and the cook off committee for the Galveston County Fair.
She was preceded in death by her parents; her parent-in-laws, Royce & Julius Vawters; sons, Timothy & Michael Vawters; Aunt Lucy Ghinaudo; and Sister Lucy Ghinaudo.
Marie leaves too cherish her memory are her husband of 55 years, Clyde Vawters; daughter, Eva Vawters; sister Madeline Marullo; brothers, A.D. Ghinaudo and wife Paulette & Frank Ghinaudo, Jr.; granddaughters, Lauren Taylor and husband Brandon, and Amber Hussey; grandsons, Christopher and Anthony Vawters; as well as numerous nieces and nephews.
In her honor a visitation will be held, Wednesday, September 11, 2019, from 5:00-8:00pm with a rosary at 7:00pm in the Crowder Funeral Home Chapel, Dickinson, Texas. A funeral mass will be held Thursday, September 12, 2019 at 11:00am at Our Lady of Lourdes Catholic Church, Hitchcock, Texas with burial following at Hypolite-Perthuis Cemetery, Hitchcock, Texas.
In Lieu of flowers donations may be made to Our Lady of Lourdes Catholic Church in Marie Vawters name.