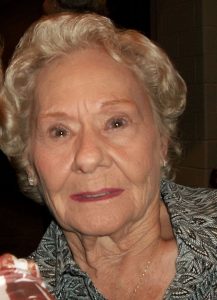 It is with broken hearts to announce the passing of our dear mother, Marie Hartnett.
Marie Hartnett of Texas City, Texas, passed away on the morning of Friday, March 3, 2017. She was born on March 2, 1929 to parents Viola and William Wunsch in Burlington, Texas. Marie married David J. Hartnett on October 29, 1949. Formerly of Hitchcock and then La Marque; Marie lived in Texas City for the last two years. She was a graduate of St Mary's School of Nursing and worked as a Registered Nurse until her retirement.
Marie was preceded in death by her mother and father, her sisters; Laverne Ayo and her husband Anthony Ayo, and Mildred Bookmeyer and her son in-law Mike Franger. She is survived by her husband of 67 years; David, daughters; Susan Franger, Kay Gage (Greg), son; Mike Hartnett (Jana), grandchildren; Kim Cabler (Jack), Ryan Franger (Chandal), Brian Gage, Eric Gage, Allison Wittenberg (Jay),  Megan Hartnett and Michaela Hartnett, her precious great-grandchildren; Olivia, Colton, Grant  and Ben Cabler,  Braedyn and Casyn Gage, Kylie and Kellen Wittenberg, Kendal  and Reed Franger, and brothers-in-law; Tommy Hartnett , Eddie Hartnett (Shirley) and Gerry Bookmeyer.
A visitation will be held Monday, March 6, 2017 at 10:00a.m. at the James Crowder Funeral Home in La Marque. A funeral Mass will be held at 1:00p.m. at Queen of Peace Catholic Church in La Marque, with Father Chacko Puthumayil officiating. Interment will follow at Galveston Memorial Park in Hitchcock, Texas.
Pallbearers will be her grandsons; Brian and Eric Gage, and Ryan Franger, nephews; Tommy Hartnett, Jr. and Mark Bookmeyer. Honorary pallbearers will be Gerry Bookmeyer, and John, Ronnie, Bim and Walter Crowder.
Marie was a polio survivor; any memorial donations may be made to the March of Dimes or Shriners Hospital.
We Love You Mama!