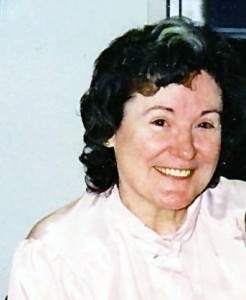 Marie Ganucheau Williams 84 passed away peacefully on September 7, 2016 at home in Houston, Texas. She was born on May 8, 1932 in New Orleans, Louisiana to Charles and Bianca Ganucheau. She liked to be called by her middle name Marcelle.
Marcelle grew up in New Orleans and Harahan, Louisiana and graduated from Dominican High School in New Orleans, in 1949. During High School she met her future husband George Williams.
Marcelle married George on November 12, 1949 in New Orleans, Louisiana. They were happily married for 41 years. Marcelle was a member of Queen of Angels Catholic Church in Dickinson, Texas. She enjoyed visits from friends and family, babysitting, knitting, crocheting and praying her Rosary.
Marcelle is survived by her sons, George Jr. (Carolyn) of Richmond, Texas and Raymond of Houston, Texas; brothers Raymond and Gilbert Ganucheau of New Orleans; sister Lydia (Allen) Cates of Cheyenne, Wyoming and numerous nieces and nephews and other relatives.
Marcelle was preceded in death by her husband George, her parents Charles and Bianca, brother Charles Jr. and sister Elise.
A visitation will be held at Crowder Funeral Home, 851 F.M. 517 and Hwy. 646, Dickinson, Texas  at 6:00 pm on Sunday, September 11th. A Rosary will follow at 7:30 pm. A Requiem Mass (in the Extraordinary Form) will be held at Queen of Angels Catholic Church, 4100 Highway 3, Dickinson, TX 77539, at 10:30 am on Monday, September 12th. Burial will follow the Mass at Forest Park East Cemetery, 21410 Gulf Freeway, Webster, TX 77598.
In lieu of flowers the family requests memorial donations be made to Queen of Angels Catholic Church Academy, 4100 Highway 3, Dickinson, TX 77539.
Condolences may be left on Marie Marcelle Williams online guest book at www.crowderfuneralhome.com/ .