Marie Elaine Cook Griffiths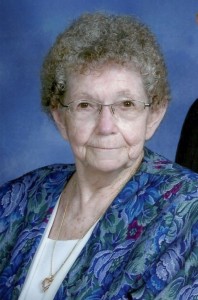 Marie Elaine Griffiths, loving wife, mother, sister, aunt, grandmother, great grandmother, and friend, went home to be with her Holy Father on May 6, 2015 at the age of 85. She was born March 26, 1930 in South Bend, Indiana to Calvin and Rose Schneider Cook. Marie will be remembered for her devotion to her late husband, Marvin and her family.
Marie married the love of her life, Marvin, on April 18, 1953. They were married for 60 years. Their love life was strengthened by a prayer life together. They had eight children: Dennis and fiancé Rhonda Crouse; Phillip and wife Sue; Gary and fiancé Alice Sholar; Kathy Mitchiner; Jim and mother of his children, Teri; Chris and wife Karen; Laurie Kurz and husband Reto; and Thomas.
She loved her family so much and was very proud of each child/grandchild/great grandchild. Marie has 16 grandchildren: Vince Pena, Nichole Larson (husband Ben); Jake (wife Ashley), Jamie, Megan Decker (husband Chris); Zackery, Trey Mitchiner (wife Ruth), Andrea, Logan, Kyle Mitchiner, Travis, Avery, Shelby, Mitchell Dawson, Hannah, and Jackson Mitchiner. Marie also has 5 great grandchildren: Jacob, Emma, Avery, Paxton, and Ethan (who went to his Holy Father on 5/7).
Marie is survived by her brother John and Fran Cook, brother Cal and Norma Cook, and sister Beverly Nijak. She is also survived by her brother-in-law, Lloyd and Roberta Griffiths and sister-in-law, Nancy and Howard Witte. Marie was blessed with many nieces and nephews. She was so very loved by her family and friends and will be dearly missed.
Marie worked at a movie theater early in her life, but her real job was taking care of her beloved family. She stayed at home to raise their 8 children. She sold Tupperware and Amway in her spare time. She enjoyed taking cake decorating classes and loved to knit and crochet. Her and her church friends would crochet baby blankets for unwed mothers. Marie loved watching all sports (especially the Rockets, Texans, and Astros) and bowled weekly with her friends until 2011. She even asked her grandson to place a bet for her during the recent Kentucky Derby.
Marie was a woman who prayed daily for her family and friends. Her faith was very apparent in all aspects of her life. She has been a member of St. Mary's church since 1976. She volunteered at St. Mary's weekly bingo in the past and also supported the annual bazaar events. She was an Eucharistic Minister, Marriage Encounter counselor, member of the Catholic Daughters, and supported her husband at the Knights of Columbus events. Marie devoted her life to her family, her church, and her friends.
There will be a Visitation/Prayer Vigil/Rosary on Monday, May 11th at Crowder Funeral Home, 1645 East Main Street, League City from 6 – 8 pm. The Funeral Services/Celebration of Life will be held Tuesday, May 12 at St. Mary Catholic Church, 1612 E. Walker Street, League City at 10:30 am.
Following the funeral, the family invites you to share lunch and a time of celebration at the Knights of Columbus Hall, 4132 27th Street East (off FM1266) in Dickinson.
In lieu of flowers contributions can be made to either Knights of Columbus #3217, P. O. Box 278, Dickinson, TX 77539 (Attn: Mike Moore) or St. Mary Catholic Church, 1612 E. Walker St. League City, TX 77573.