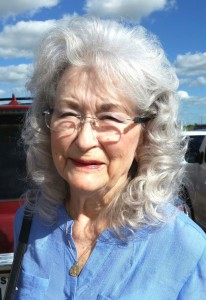 Marianne White age 89, formerly of La Marque, was peacefully called home to join her eternal loving family on August 9th, 2015 after a respiratory arrest while courageously fighting reoccurrence of pancreatic cancer at Houston Methodist Hospital. She fought to the end with strength and dignity always sharing a warm easy smile when she could, to those helping her in her final days.
She was an exceptional and beautiful woman born October 4, 1925 in Dallas, Texas – the daughter of John Hutchins Wiseman and Ermon White Wiseman. She had 4 brothers: Hutch, William (Billy), Algie (Teet) and Luther Wiseman.
After graduating from High School, Marianne moved to Galveston, TX where she met her future husband; a handsome Army 1st Sergeant: Eugene E. ('Sarge') White; while working the perfume counter at Walgreens. They married on her birthday in 1943 and were married 53 years. In 1948 they moved to La Marque where she resided for 65 years. They had 4 children: Darlene, Terry, Timothy and Renee.
Marianne co-owned/managed Mainland Coin Exchange in the 60's and 70's, and later Pirates Market with her husband, edited their long-running weekly guest column in the Galveston News and attended night classes at College of the Mainland while raising their children. Sarge also worked at Union Carbide for >25 years before his death in 1996. In 2013 Marianne moved to Katy, Texas to live with her daughter, where she blossomed again finding new joys and an excitement for life.
Marianne is preceded in death by both of her parents, her four brothers, her beloved husband 'Sarge', and her two sons; Terry and Timothy.
Marianne was demure, dainty, beautiful and soft spoken. Though quiet and shy, she was an exceptional woman with a dimple in her smile. She was an extremely devoted wife and mother. She took what came to her and asked for nothing her whole life. She never complained and never raised her voice. She was a long time member of the La Marque Presbyterian Church.
In the last 1.5 years of her life, she found her spirit and laughter again. Although her battle was hard, she enjoyed daily outings shopping for cute shoes, earrings, and clothes; along with new shades of lipstick and nail polish; always while looking her best. She loved hunting for bargains at discount stores and seeing the huge whole-sky colorful sunsets off the Katy plains while driving home. She loved sitting outside watching the dogs chase each other and play. She loved seeing roses and flowers, and watching the yard blossom to full-bloom in the spring. She loved sitting outside watching butterflies, and hummingbirds while carefully listening to pick out the songs of cardinals in nearby trees; which reminded her of her much loved son Terry.
Marianne was very feminine and proper; a shy, 'girly-girl' who loved lace and cut-outs. It was always important to her to look her best with her eyebrows, lipstick and hair done. She absolutely loved getting routine manicures, pedicures and having her hair fixed just right. She took pride in looking younger than her years, and cherished the constant attention given by strangers, who gave her complements on her beautiful long silver curly hair and beautiful skin. She also loved Shrimp po-boys in Galveston, fresh fruit, Doublement gum, pineapple pizza, sweet perfume, pretty lipsticks and Dancing With The Stars. Most of all, she adored her rescue dogs: 'Petunia' and her spoiled cherished little Dachshund 'Freddy', who she called her "little man".
Marianne was an avid animal lover who participated in animal rescue and charity. She was a compassionate woman feeling deep empathy for animals and the homeless. Her sweet dimpled smile and sparkle in her blue/green eyes will be deeply deeply missed.
Marianne is survived by two daughters: Darlene White Wilcox of Houston, TX and Renee White of Katy, TX, 7 grandchildren and numerous great grandchildren.
Prior to her death my sweet loving mother requested that after burial, the extra flowers on her grave be placed on graves that didn't have any. This final wish of hers will be honored. For those preferring in lieu of flowers, please consider a donation in her name to the Galveston Island Human Society, Best Friends Animal Sanctuary (bestfriends.org), or The American Cancer Society.
Visitation and viewing will be held on Wednesday August 19th from 1:00-3:00pm at Crowder Funeral Home in La Marque, followed by a graveside service at 4:00 pm at Galveston Memorial Park Cemetery 7301 Memorial St, Hitchcock, TX 77563.