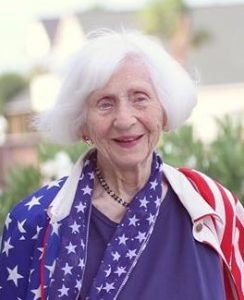 Marian Horton Brick, a long time resident of Bayou Vista, Texas passed November 12, 2016 due to complications following cancer. She was 100.
Ms. Brick was born on August 28, 1916 in Galveston, TX to her parents, Gus and Maude Horton. She graduated from Ball High School in 1934 and went on to college in Jacksonville, TX where she met and married Clarence Pratt, a B17 pilot that lost his life serving in World War II.  She later married Claude Brick and they shared a long and happy life together.  Marian retired from the Texas Employment Commission as an Administrative Judge and was still working at 99 years of age with H.I.S. Ministries.  Marian was a member of Faith Community Church and active in many organizations including the Daughters of the Republic of Texas, the Daughters of the American Revolution, United Daughters of the Confederacy, Order of the Eastern Star, American Business Women's Association, Senior Chamber Commerce of Texas City, and the Salt Water Garden Club.
Ms. Brick is survived by her son and daughter-in-law, Robert and Marilyn Pratt of Comanche, TX; grandson Bob Pratt and wife Margaret of Lake Jackson, TX; grandson Bill Pratt of Fallon, MT; grandson Coe Pratt and wife Meg of Burnet, TX.  Ms. Brick has 7 great-grand children and 4 great-great-grand children; her close nephew W.J. Brick and close nieces Esther Ruth Hopper, Connie Blunt and Dorothy Roberts. She is preceded in death by her husband Claude Brick and her brother George Horton.
Ms. Brick requested in lieu of flowers, donations can be made to the Faith Community Church of Bayou Vista and of H.I.S. Ministries of Santa Fe.
A visitation will be held on Monday, November 14, 2016 from 5:00PM to 8:00PM at the James Crowder Funeral Home in La Marque.  A service will be held at the funeral home on Tuesday, November 15, 2016 at 10:00AM with burial to follow at Mt. Olivet Catholic Cemetery in Dickinson.