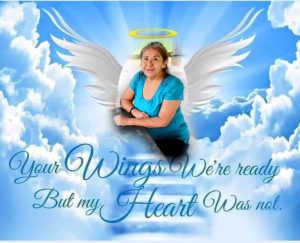 Maria Magdalena Gonzalez, 63 of Dickinson, passed away peacefully Monday, March 27, 2023 in League City, Texas. She was born on July 22, 1959, in Ciudad Mante, Tamaulipas, Mexico to her mother Inez Velarde and father Raymundo Mata.
Maria truly lived her life to the fullest through the simple pleasures; chatting with friends and family, spending time with her family and grandkids, dancing and having a good time, but most of all her favorite hobby; fishing. Maria was always a happy person and she leaves behind a great void in the hearts of everyone who had the pleasure of having her in their lives. She will be missed dearly.
Maria is preceded in death by her parents and her siblings Armando Mata and Lidia Mata. She is survived by her four Children, Jessica Padilla, Joanna Rodriguez, Raymundo Gonzalez and Jorge Gonzalez III and their spouses. Maria also leaves behind 19 grandchildren, which were her pride and joy, and 5 great-great grandchildren and her brother and sisters.
The Gonzalez family thanks you for joining us in celebrating our beloved Maria's life, on Thursday, April 6, 2023 from 9:00am – 1:00pm at the James Crowder Funeral Home in La Marque. A graveside service will follow at 2:00pm at Hayes Grace Memorial Park Cemetery in Hitchcock, Texas.