Maria Hilda Solis Gonzales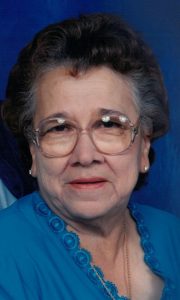 Maria Hilda Solis Gonzales, 84, of Houston, passed away Friday, February 10, 2017, at her residence.   Maria was born November 22, 1932, in Donna, Texas, to Bartolo and Severa Solis.  She retired from La Marque Independent School District and was a member of Queen of Peace Catholic Church.
Maria was preceded in death by her husband, Gabriel Gonzales, who she married, November 25, 1951, in Galveston; her parents: brothers: Jose (Angie) Solis, Jesus (Evangalina) Solis; Sister-in-law: Betty Solis; Son-in-law: Tony Skirvin. Maria is survived by her daughters: Irene Skirvin and Juanita Lester (Jay); sons: Gabriel Frank Gonzales (Jennifer) and Daniel Gonzales; Grandchildren: Gabriela Gayle Gonzales, Gabriel Frank Gonzales II, Ryan Richard Gonzales, Jason Matthew Ramirez, Natalie Nicole Mundell, James Alan Mundell, Christopher James Diaz; Great Grandchildren: Brendan Daniel Slover, Nicholas Louis Slover, Anthony Andrew Gonzales, and Mya Andi Gonzales; sister: Maria Loli Alexander (Frank); Brothers: Rojelio Solis, Estanislado (Lalo) (Dolly) Solis, Frank Solis, and Oscar Solis; and special ex sister-in-law Petra Solis.
A visitation will be held from 6:00pm to 8:00pm Thursday, February 16, 2017, at James Crowder Funeral Home, La Marque, with a Vigil Service at 7:00pm. Services will be held at 10:00am Friday, February 17, 2017 at Queen of Peace Catholic Church, with Father Chacko Puthumayil officiating. Interment will follow at Galveston Memorial Park Cemetery, Hitchcock.
Pallbearers will be Christopher Diaz, Gabriel Frank Gonzales II, Ryan Gonzales, Jason Ramirez, Jesse Solis, and Anthony Gonzales. Honorary pallbearers will be James Mundell, Brendan Slover and Nicholas Slover.   A special thank you and gratitude to Jesse and Maria Fina Solis, Jay Lester, and her hospice staff Dana and Christina.