Maria del 'Carmen' Romano de Hernandez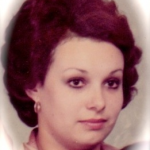 Maria del Carmen Romano de Hernandez, 64, of Friendswood TX passed away on Nov. 12, 2014, in Webster, TX.  She was born on December 3, 1949 in Guadalajara Jalisco, Mexico.
Carmen earned an Accounting BA from Academia Cultural, Tijuana, Baja California, Mexico   She worked as a Bookkeeper, then Teacher, and Housewife.  She had a passion for her children and grandchildren and loved cooking and her novels.
Carmen is survived by her: loving husband of 43 yrs, Jose Ruben C. Hernandez; her daughters, Mary Carmen and Michelle her son, Jose Ruben Jr.  brothers: Eduardo and Salvador Romano  Grand children: Jasmin, Kymberly, Kristopher, Isabella, Sophie, Daniel, Alexandra, Nicolas, Dionicio, Desiree and numerous family members and friends.
Visitation will be held on Friday, November 21 from 10:00 to 11:00 am followed by a Funeral Service at 11:00 am at Crowder Funeral Home – Pearland. Interment will follow at South Park Cemetery, Pearland, TX.