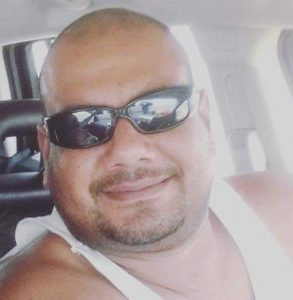 Marcus Andre Mendez, 39, passed away peacefully surrounded by loved ones, October 5,2019 at Memorial Herman Heart and Vascular Instituted in Houston, Texas after battling heart disease.
Marcus was born December 19, 1979 at Camp Lejune North Carolina. He was a graduate from Santa Fe High School and was a longtime resident of Santa Fe, Texas. Marcus was a devoted father, who had a passion for fishing, barbecuing, gambling, playing bingo and watching his favorite football teams. The Texas Longhorns and the Texans. He was known for being a jokester and loved hanging with his buddies. He lived his life to the fullest.
He is preceded in death by his father Richard Anderson and his best friend Austin Englebosch.
Survivors include his wife, Michelle Mendez of Santa Fe; daughter, Angela Mendez of Santa Fe; stepson, Patrick Poleinsky of Santa Fe; parents, Mercedes and Rolando Garza of Hitchcock; grandparents: Manuel and Eva Mendes Jr. of Santa Fe and Margie Anderson of Hot Spring; uncles: Miguel Mendez and Karen of Santa Fe, Manuel J Mendez of Tennessee; aunt/godparents, Monica Ramsey and Michael Sr. of Santa Fe; and numerous uncles, aunts , cousins and friends. Extended family Sonya Menchaca, Joseph Culpepper, Christopher (Twinky) Mc Millan, Jackie Peacock, Debbie Medrano, and Kristi Frazier.
Special thanks to the medical staff Dr. Maria Patarroyo, Michelle Martin RN, Shebba Pierce RN for the outstanding care.
Memorial service will be at the Crowder funeral home 2422 E Broadway Street Pearland, Texas 77581 at 2pm on Saturday, October 12, 2019.
In lieu of flowers, donations can be made to the American Heart Association, 7272 Greenville Ave. Dallas, TX 75231, 1-800-242-8721, www2.heart.org