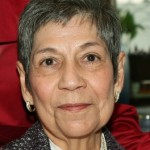 Manuela N. Perez, 70, longtime resident of Dickinson, Texas passed away May 14, 2014 in Webster, Texas. She was born December 2, 1943 in Los Fresnos, Texas to parents, Jose and Juana Aleman.
She was a member of Shrine of the True Cross Catholic Church. Manuela was a Dallas Cowboy fan and loved collecting Longaberger baskets.
She is survived by her husband, Jesse S. Perez; son, Mike Navarro and wife Denise; sister, Effie Rodriguez, and husband Blas; sisters-in-law, Minnie Garza, Carmen Silva, and Ramona Aleman; grandchildren, Michael and Erica Navarro; great-grandchildren, Alaya and Christelle Andres, and Michael Navarro, Jr.; and numerous nieces and nephews.
Visitation will be held from 5 p.m.-8 p.m. with a rosary beginning at 7 p.m. Monday, May 19, 2014 at Crowder Funeral Home in Dickinson, Texas.
Funeral Mass will be held at 10:00 a.m. Tuesday, May 20, 2014 at Shrine of the True Cross Catholic Church in Dickinson with entombment following at Mt. Olivet Cemetery in Dickinson.