Maidee "Dee" Smith Gregory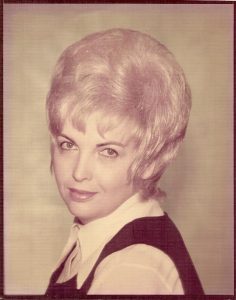 Maidee Smith Gregory (Dee), 81, passed away on 11 October 2016 in Houston, TX. She was born on November 10, 1934 in Fort Worth, TX to Festus Woody and Eva Mae Smith. Dee is survived by her daughter Leigh Ann Hays; sons, Robert and Rick Gregory; grandchildren, Jared, Kyle, Leslie, Greg and Grant; great grandchild, Brayden and numerous friends.
She worked as a secretary for the United States Border Patrol and NASA. She had a passion for people and loved to have gatherings at the home.
A memorial will be held on Friday, October 21, 2016 at 3:00 pm at Crowder Funeral Home, 111 Medical Center Blvd, Webster, TX 77598. In lieu of flowers those wishing to make a memorial donation in Dee's memory may do so to the American Lung Association, 8207 Callaghan Rd #140, San Antonio, TX 78230.