Madeline Marie Ciabattoni Jennings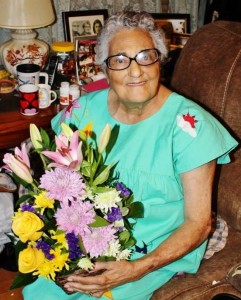 Madeline Marie Ciabattoni Jennings, 80, of La Marque, Texas, began her life in heaven with her many loved ones, friends and her Savior on July 20, 2015. She was born on August 29, 1934 in Corona, NY.
Madeline first met her future husband, Bart Jennings, when she was just 7 years old on a playground where he helped her up after falling off of a seesaw. They later met again when she was 21. They spent 60 years loving each other as much as two people could ever hope to achieve.
Madeline enjoyed traveling, making jelly, going to church every Sunday and spending time with her family and friends. She was an amazing person, wife, mother, grandmother, Aunt, Sister and friend. Madeline had the most loving heart and spirit.
Madeline leaves with cherished memories, her husband Bart Jennings, and 3 daughters Renee Sckittone, Debbie Smith and husband Ernie, and Angel McGehee; 8 grandchildren Julie Sckittone, Paul Smith, Ernie J. Smith, Sarah Moss and husband Derek, Kristen McGehee and Micah Wollenberg, Chris Smith, Michael Smith, and Sheree Bartlett and 15 great-grandchildren; brothers Vinnie Ciabattoni and wife Carolyn, Bobby Ciabattoni and wife Linda, Albert Boatman and wife Dee; sister Dawn Ryan and husband Tim; great aunt Norma Butler, brother-in-law Glenn Jennings and sister-in-law Norma Jean, sister-in-law Perry Lou Jennings and many nieces, nephews and extended family.
Madeline is preceded in death by her parents, Rena and Vincent Ciabattoni, sisters Norma Brown and Josephine Ciabattoni; brothers and sister -in-law Jesse and Stella Ciabattoni, Gerald Ciabattoni, Avio and Nello Ciabattoni; nephew Chris Ciabattoni and nieces Lee Biela and Cindy Ciabattoni; sisters-in-law and brother-in-law Nancy Wooten and Peggy Hood and husband Steve; brothers-in-law Wayne Jennings and Ray Jennings….all met her at Heaven's Gate.
Pallbearers will be Sarah Moss, Ernie Smith, Matt Jennings, Mike Gibson, Tony Ciabattoni, Robby Smith, Michael McGehee and Carl Sckittone. Honorary pallbearers will be Derek Moss, Micah Wollenberg, Michael Ciabattoni, Bubba Jennings, Bart Hood and Ernie J. Smith.
Visitation will be on Friday, July 24, 2015 from 5:00pm – 8:00pm at the James Crowder Funeral Home 401 Texas Ave La Marque, Texas 77568.
Funeral Service will be at 1:00pm on Saturday, July 25, 2015 at the Crowder Funeral Home with Pastor Harry Stafford officiating. Entombment will follow at Grace Memorial Park in Hitchcock, Texas.
In lieu of flowers, donations can be made to: Road to Life Church 29762 Hwy 6 East Alvin, Texas 77511 in Memory of Madeline Jennings.