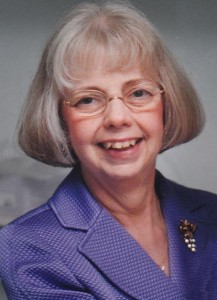 Lynne Marie Royce, 71, passed away May 11, 2016. Lynne Marie was born June 7, 1944 in Dallas, TX and was a faithful member of St. Helen Catholic Church.
Lynne Marie is preceded in death by her father, Willard Lang, her step-father, Arthur Joseph Till and her mother, Jeannette Till.
Lynne Marie leaves behind to cherish her memories, her husband of 50 years, Clayton E. Royce; daughters: Jamie Shumbera, husband Mark, Corelie Malcaba, husband Jose Noel and Celeste Harrington, husband Brian; grandchildren: Joseph Ian Malcaba, Joseph Gabriel Malcaba, Jacob Edward Harrington, Nicole Marie Harrington, Andrew Clayton Harrington, Michael Rankin Harington and Braden Joseph Harrington; step-brothers: Thomas Till, wife Pat Jacobsen, and George Till; cousins: Melanie Ross, Lott Burke, John Burke and numerous other close relatives.
The family will be receiving friends at 11:00 am, Tuesday, May 17, 2016 at St. Helen Catholic Church, 2209 Old Alvin Rd. Pearland, TX. A rosary will begin at 11:30 am with a mass at noon. Interment will follow at Houston National Cemetery, 10410 Veterans Memorial Dr. Houston, TX at 2:15pm, reception to follow at church.
Please make memorial donations to: Lupus Foundation, www.lupus.org