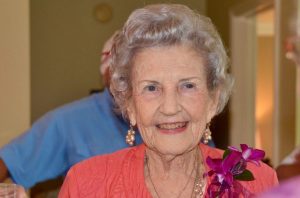 Louise Chandler Lott, 94, passed away in her home on February 17, 2017.  Louise was born September 28, 1922 in Yoakum, TX to Carl and Mary Rose Chandler.  She is preceded in death by her husband of 71 years, Jap C. Lott, her parents and her brother, Carl H. Chandler II.
She is survived by two daughters: Cindy Ferris and husband Mark, and Sherry Kay and husband Mark; 5 grandchildren: Jocelyn Register, Ryan Penn and wife Rachel, Amber Penn Bennett and husband Shane, Alyssa Kay Sweet and husband Tim, and Sam Kay; 3 great-grandchildren: Jackson Register, Leah and Parker Sweet; sister Marguerite Quast and husband John; numerous nieces and nephews.
Louise graduated from Jeff Davis High School in 1941 where she was a member of the Carlton Cadettes.   She attended Massey Business College where she learned secretarial skills. She began dating Jap the day before the bombing of Pearl Harbor and they married on Feb. 5, 1944 in Phoenix where Jap was stationed before heading to the Pacific as a fighter pilot.  She returned to Houston where she worked as a secretary at both Gulf Oil and the Texas Company.
Louise loved being a mother. She was involved in her girls' every activity, spending time almost daily sitting through piano lessons, Girl Scout activities, school sporting events and Rainbow Girl meetings. As long as it didn't involve cooking, she was tireless and always the first to jump up and offer to help in any task.  She did not slow down when her grandchildren arrived.  From the time each grandchild was born, her mission was to be there for her or him in every way.  She was able to see all of them grow into adulthood and joined in celebrating their personal and professional accomplishments.  Her grandchildren are so blessed to have so many beautiful, and of course, funny, memories of their precious Mimi.
Louise was a member of Park Place Chapter of the Order of Eastern Star for 73 years. She is a Past Mother Advisor of the Park Place Chapter, Order of Rainbow for Girls. In her later years, she was a member of the Red Hat group in their Country Place neighborhood, and also participated in line-dancing and the Women's Discussion Group.  She and Jap traveled extensively in their several motor homes, making so many lasting friends through their many travels.
Louise will be so sweetly remembered by everyone in her family and her many friends, for her beautiful, ever-present smile.  She was always game for any outing at a moment's notice, whether it was a movie, any musical or theatre in town, especially if dancing was involved in any way.  She and Jap hosted many wonderful parties during their long life together, and until almost 90 years of age, Louise could, and did, out-dance every other guest.
Louise was the life of the party and while we will forever miss her smiling face, we know there is a dance party going on in heaven right now, like no other.  Jap, your resting is over.  We know you are so happy to be back in your Weezie's arms and to be able to see her beautiful, smiling face.
The family would like to thank the staff of Assisting Hands of Pearland who served Louise so well in her last months.
In lieu of flowers, the family requests donations to the Shriner's Crippled Children's Hospital or a military organization of your choice.
A visitation will be held at Crowder Funeral Home in Pearland 11 a.m. Tuesday, February 21, followed by a funeral service at noon and a short reception after.  Louise will be laid to rest with Jap in Arlington National Cemetery, Arlington, VA at a future date.