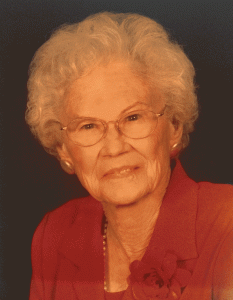 Lottie Vivian Singer, 97 of Bastrop, passed away on June 8, 2015. She was born April 24, 1918 in El Campo, Texas and had 4 sisters and 3 brothers. Lottie spent most of her years in Texas City.
She is preceded in death by her parents, James and Willie Truitt and her husband Rev. A.O. Singer
Lottie is survived by her daughter and son-in-law, Doris and Henry Bridges of Bastrop, grandchildren Kimberley and Roger Shelton, Dana and Keith Sharp, Corina Lozano, great grandchildren Jennifer Shelton and James Ross, Kyle Shelton and Ashley Sikora, and great-great grandson Connor Aaron Shelton.
A visitation will be held on Wednesday, June 10, 2015 from 6:00 to 8:00 p.m. at James Crowder Funeral Home in La Marque. A Graveside Service will be held at 11:00 a.m. on Thursday, June 11, 2015 at Forest Park East Cemetery in Webster, Texas with Pastor Rudy Rios officiating.