Lorraine Catherine Viskadurakis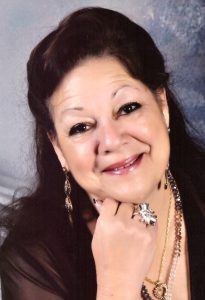 Lorraine Catherine Viskadurakis, 63, of Clear Lake Shores, Texas passed away on September 20, 2021 with her family by her side. She was born in Houston, Texas to Henry F. Alcalá, Jr. and Mary Magdalene Alcalá on November 4, 1957. She graduated from Furr High School and was always involved with her class reunions as the President and kept in touch with all her friends. She and her husband, Vis, own a successful family owned and operated automotive repair shop for over 40 years.
Lorraine was a very joyful, happy person who always had a smile on her face to everyone she met. She was a lover and follower of Jesus Christ; always sending her family and friends a daily morning scripture. She was also a very strong willed person who was not afraid to speak her mind or give her opinion. Lorraine was a lover of the outdoors. She loved traveling with her husband, Vis to many places. Her favorite place to travel was Greece. She was always in her garden or with her and Vis' chickens, but mostly enjoyed spending time with her family. She always took the time to help others in their time of need with prayers and comfort. She also enjoyed cooking, especially during the holidays with her daughters making tamales.
She is preceded in death by her husband of 43 years Vis Viskadurakis, father Henry F. Alcalá, Jr; her mother Mary Magdalene Alcalá and brother Henry Alcala, III.
She is survived by her children Rena Gills of Kemah, Texas, Naomi (Landon) Aune of Friendswood, Texas, Peter (Virginia) Viskadurakis of League City, Texas and Jonathan Viskadurakis of Kemah, Texas; nine grandchildren Christina (Tyler) Henry, Brandon Gills, Julia White, Trinity Haddix, Sophia and Kiya Bauer, Olivia and Luke Viskdurakis and Mia Viskadurakis; sister Linda Ellen (Warren) Alberty; brother Gabriel Anthony Alcala; along with nieces and nephews.
Lorraine "Mrs. Vis" will ALWAYS BE LOVED AND IN OUR HEARTS!