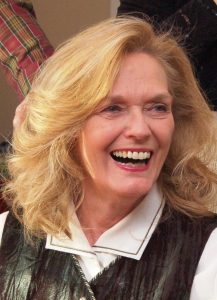 Surrounded by family, and resting peacefully, Lola McLain passed from this world shortly after midnight on May 1, 2023, following a sudden illness.
Lola was born in Monahans, Texas, on August 12, 1942, to Robert Harold and Lola Claire Butler of Grandfalls, joining her older brother, Anthony Wayne "Tony" Butler, and followed six years later by her baby sister, Kathryn Ann "Kathy" Butler-Painter.  The Butlers eventually "moved to town," relocating to Monahans in 1953.
Lola graduated from Monahans High School in 1960, and she then attended college at The University of Texas at Austin where she studied music and jazz composition.  After her freshman year at UT, Lola returned to Monahans for the summer where she reconnected with an older MHS classmate, Tommy McLain, who would become the love of Lola's life.
Lola would return to UT Austin for her sophomore year, and she completed her 3rd and final semester there before transferring to The University of Texas at Arlington, and then to North Texas State University in Denton, all in order to be closer to Tommy, who was attending school and playing football at UT Arlington.
Lola and Tommy then returned to Monahans where they were married on June 16, 1962, at the First Baptist Church.  Lola would go on to complete her undergraduate degree in music and education at Sul Ross State University in Alpine, and she would later receive a graduate degree in education after attending classes at both Texas Tech University in Lubbock and The University of Texas Permian Basin in Odessa.
But Monahans was always Lola's and Tommy's home; and over the ensuing fifty-six years, Lola would establish herself as a devoted, and much beloved, pillar of the Monahans and greater Ward County communities, including being named the Monahans Chamber of Commerce's Outstanding Citizen of the Year in 2006 (along with her lifelong friend, and fellow musical maestro, Sue Branam).
Lola's civic activities and associations are simply too numerous to list, but it was through her love and passion for music that she touched the lives of so many.  She played the organ for over five decades of regular services and special productions at First Baptist Church in Monahans; she also played music for weddings, funerals and other special occasions no doubt numbering well into the hundreds; she also loved heading up the musical side of many community theatrical productions; she accompanied scores of young local musicians in their solo and ensemble competitions at school; and she even served for several years as the principal of the Milam Fine Arts Magnet Academy in Odessa.
But in the summer of 2016, Lola and Tommy decided to "take their show on the road" moving to League City where Lola would once again become a devoted, and much beloved, pillar of a new community, this time in Galveston County, and all of course centered around the church:  Galveston Church established in 2018, and its successor, Galveston County Church, established in 2020, where Lola and Tommy were pivotal to the founding of the church, and Lola blessed everyone with her God-given musical talents.  In fact, Lola played the keyboard for Galveston County Church's morning worship service on Sunday, April 30, 2023, just mere hours before her passing.
Affectionately known as "Yaya" by her family, Lola will be remembered for making every moment together fun and magical, often waking family members to the sounds of the piano, and assembling the "family band" for a concert whenever possible.  With "Yaya," there was much laughter and creativity.  She loved to give gag gifts and play practical jokes, and she also loved to serve the family traditional Texas dishes like fried chicken with "crackles" and gravy, chicken and noodles, and her famous rolls and rum cake.
Lola is survived by her husband, Tommy; two children, William Thomas McLain (and his wife, Tirzah) of Galveston, and Lola D'Ann Hervada (and her husband, Juan) of League City; five grandchildren, Micah (and her husband, Gareth), Nina, Clara, J.D. and Thomas; six great grandchildren, Weston (11 years), Levi (10 years), J.D. (6 years), Willa (3 years), Jack (3 years) and Kasey (1.5 years); plus colleagues, friends, acquaintances and fellow Servants of Christ numbering into the thousands.
Viewing will be at the Crowder Funeral Home, located at 851 FM 517 in Dickinson, Texas, on Thursday, May 4, 2023, with a family visitation at 5:00 p.m. The funeral will be held at Galveston County Church, located at 6601 FM 2004, Hitchcock, Texas, on Friday, May 5, 2023, at 10:30 a.m., officiated by Pastor Taylor Wehrle.
A second viewing will be at Harkey Funeral Home, located at 210 South Allen in Monahans, on Tuesday, May 9, 2023, with a family visitation at 5:00 p.m.  A private interment will occur at the Monahans Memorial Cemetery on Wednesday, May 10, 2023, followed by a Celebration of Life ceremony honoring Lola at First Baptist Church at 11:00 a.m. officiated by Pastor Chris Powell.
"…Well done, good and faithful servant…" Matthew 25:23.