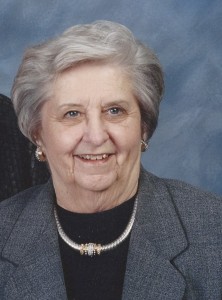 Lola Jean Nelson Benson, 89, a 30 year resident of League City, Texas.  She was born May 13, 1926 in Lisbon ND.  Died June 6, 2015.
Lola was a wife, mother, grandmother, great-grandmother and sister.  She was preceded in death by her son John L. Benson and sister Carol Anderson.  She is survived by her husband of 68 years Dr. Lambert "Bert" Benson, daughters, Pamela Vincent, Penny Dougherty, Paula Towner, Son-In-Laws Dr. Thomas Dougherty, John Towner, six grandchildren, eleven great-grandchildren and sister Mavis Warn.
Lola loved to play golf, sing and was an ACBL Life Master bridge player. She was a long time member of Christus Victor Lutheran Church.
A memorial service will be held in her honor Saturday June 13, 2015 at 10am at Christus Victor Lutheran Church, 2098 West Main St. League City, TX 77573
In lieu of flowers the family requests a memorial donation may be made to Christus Victor Lutheran Church.