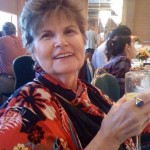 Lois Jean Jennings, 79 of La Marque passed away Tuesday, December 3, 2013 in Webster, Texas. She was born November 20, 1934 in Galveston to Gelon B. and Ruth M. Revels. She was raised in Galveston, moved to Hitchcock in 1959 and then to La Marque in 1984.
Lois married Malcom Dale Jennings in 1954, she was a member of the Elks Auxiliary, a Ball High graduate; she sold Avon for over 37 years and worked at American National for 9 years.
She is preceded in death by her parents, husband Malcom Jennings and brother, Albert Revels.
Lois is survived by her daughter and son-in-law; Lori Jennings and Sidney Mascarella; sons and daughters-in-law; Jerry Dale and Kathy Jennings and Billy Will and Kay Jennings; brother and sister-in-law; Bill and Barbara Revels; ten grandchildren; Jimmy, Candace, Amanda, Samantha, Katherine, Tabitha, Tamara, Will, Jr., Erica and Cassie; and fourteen great-grandchildren.
Visitation will be Saturday, December 7, 2013 from 5:00pm – 8:00pm at the James Crowder Funeral Home in La Marque. Services will be at the funeral home Sunday, December 8, 2013 at 2:00pm. Burial will follow at Galveston Memorial Park in Hitchcock, Texas.
Pallbearers will be Bill Revels, Sidney Mascarella, Cody Dohman, Billy Will Jennings, Jerry Dale, Larry Krenek, David Reagan and Shane Smith.