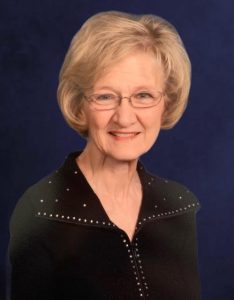 Linda Gail Trittipo, 79, entered eternal rest on October 5, 2021 after a slow decline from dementia and subsequent complications made more challenging due to the pandemic. She was born in Dothan, Alabama on December 15, 1941 and is preceded in death by her husband Robert Lee Trittipo, father John L Howard, mother Ruby Lee Howard and sister Trish Derrick.  She is survived by her devoted children: daughter Tanya, sons Christopher and Trent, daughter in law Valentina and granddaughter Valerie, all of Houston, as well as her nephew Darron Derrick in Alabama. Linda graduated magma cum laude from Samford University in Birmingham, AL with a bachelor's degree in education where she was very involved in many extracurricular activities and was entered into the "Who's Who" of American Universities awarded to outstanding students. After college, she moved to Fort Worth, TX to begin her teaching career in elementary education where she met her soon to be husband, Robert "Bob" Trittipo. After they married, they relocated to the Clear Lake area of Houston when Bob accepted a position as an engineer at NASA and Linda continued teaching at Clear Lake Elementary.
As much as she loved her students, her mission in life was to have a family. After the birth of their first child, they made the decision for her to be a stay at home mom so she raised all three children while being very active in the community: she was on the PTA committee, was a class mom, Brownie troupe leader, a soccer/dance/cheer mom, hosted many school parties, lead the "Great Books" program at Whitcomb Elementary, was a member of the Bay Area Garden Club and the Christian Women's Club, where she loved planning and modeling in their annual fashion shows… just to name a few! When her youngest was a senior in High School she returned to teaching at San Jacinto College. Then was offered the position as manager at the boutique Cache' in Baybrook mall where she thrived and reinvented herself as an empty nester. They were very active members of Nassau Bay Baptist Church and then University Baptist Church. Her faith was extremely important to her so they raised their family with strong Christian values and she leaned on her faith in hard times. When she became a widow, she joined the lady's "Joy" class in the "Young at Heart" department where they planned many fun activities, luncheons, and trips, she was very active in several Bible study groups, went to Christian women's retreats, visited sick church members in the hospital and participated in the annual Tapestry Dinner where she loved the creative process of coming up with a new theme for their table each year.
Linda's great love in life was her family and she was very devoted to raising her three children whom she adored. She was a wonderful mother, wife, daughter, friend and neighbor and was loved, respected and admired by all who knew her. She enjoyed being a homemaker, was very creative, a great cook, loved to hostess, whether friends or kids birthday parties, and everything was always perfection from the decorations to the table settings. She had great taste, a passion for interior decorating and a love of fashion. She loved to read, work crossword puzzles, play games and watching Jeopardy was part of her daily routine. Linda was known for having the sweetest heart, always smiling, eager to help others, and being a good listener. She was a very kind, caring, loving, giving, classy Christian lady who was known for her sense of style, southern manners and hospitality. She was calm in a crisis and had the softest hands you've ever held and the softest heart to match. Her true gift in life was not just being a mother but later in life a selfless caretaker to both her mother and her husband during their illnesses.
She will be deeply missed by her loving family and dear friends, whom she was not ready to leave. Her last year was spent in Memory Care and we were all looking forward to the pandemic restrictions being lifted so we could take her out to enjoy life again and she always talked about just wanting to be with her family. We were shocked by her sudden passing but we have peace knowing that she is in the loving hands of God, pain and worry free, with a restored body and sound mind, reunited with her beloved husband of 43 years, her mother and grandparents, who she so adored. She will be in our hearts forever and because of the way she raised us, we know we will be with her again one day.
Her service will be held on November 13, 2021 at 11:00am at University Baptist Church in Clear Lake. The family would appreciate masks.