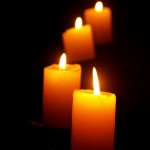 Lillian Theresa Vincent passed away peacefully January 9th, 2017, at the age of 83. Lillian is preceded in death by her parents, Harry and Rose Koster, her loving husband Don Raymond Vincent, brothers Harry, John and Gerald Koster; sister Virginia Foster. Lillian is survived by her sons Bruce and s/o Helen Prather, Blake and wife Lorena, Brent and wife Ysolda; brothers David Koster and wife Delores, Roy Koster and wife Sharon; sisters Marcella Corrick, Eileen Buzek; sister-in-law Margaret Koster; grandchildren Paul, Christin, Lauren, Joshua; seven great grandchildren and a host of other family and friends. Lillian belonged to the parish of St. John the Baptist Catholic Church, she loved the Lord Jesus and his Blessed Mother, her family and friends. Please remember to pray for her and all the departed souls.
Visitation: Monday January 16th, 2017; 5:00 pm – 7:00 pm. Rosary 7:00 pm at Crowder Funeral Home, Dickinson, TX.
Graveside service Tuesday January 17th at 11:00 am. Mt Olivet Cemetery, Dickinson, TX.