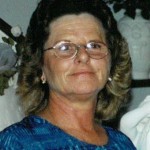 Mrs. Levie (Baby) Reid 62 passed away Friday morning, November 7, 2014, at Mainland Medical Center, in Texas City, Texas. She was born September 2, 1952 in Texas City to Vida and Roland Mann.
She loved spending time in her camper on the banks of the Guadalupe River in New Braunfels. The biggest love of her life was her family and her grand kids. She was preceded in death by her Father, son Ricky Armstrong, her loved aunt Frankie Gilbert, uncles Thomas and Rex Gilbert and grandparents. Survivors include her husband of 30 years Archie Reid, her son Tony Armstrong, her daughter Tammy Jones and husband Robert, her mother Vida Jo Gilbert Frye, sister Linda Sue Sales, brothers Charles Mann, Nathan Frye and Allen Frye. Her Uncle Mike Gilbert, Aunts Gloria (Jeanie) Howell and Clara Trodgen and husband Joe and five grand kids and one great grandchild, numerous nieces and nephews.
A visitation will be held on Tuesday, November 11, 2014 from 1:00pm to 3:00pm with a funeral service at 3:00pm at the James Crowder Funeral Home in La Marque, Texas.