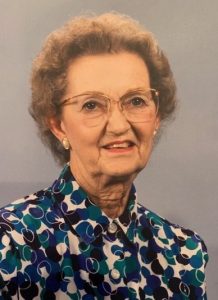 Letha Vivian Rayburn, 95, of Houston, Texas, formerly of La Marque, Texas, passed away on February 28, 2019. She was born April 3, 1923 in Powderly, Texas. She was a member of First United Methodist Church of La Marque, Texas where she enjoyed Sunday school and quilting.
She was preceded in death by her parents James Andrew Conder and Josephine Weaver Conder, her husband Charles Ira Rayburn, her son James Charles Rayburn, and son-in-law Alan Hayes Williams. She is survived by her daughter, Sandra Rayburn Williams and daughter-in-law Elizabeth Rayburn. She is also survived by her grandson Garth Franklin Williams and wife Sara Morris, grandson James Brian Rayburn and wife Jennifer Renee Loewenstein Rayburn, grandson Charles Brady Rayburn, and granddaughter Lauren Williams Fischer and her husband Jason Alan Fischer, great- grandsons Hudson Alan Fischer and Cole Isaac Rayburn, and great-granddaughters Brooklyn Blake Fischer, Reese Ella Rayburn, and Jude Laine Rayburn.
There will be a graveside service for family-only at Forest Park East, Webster, Texas.