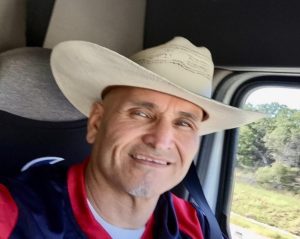 Leroy Villanueva Munoz, 61, of Pearland, TX, passed away on September 22, 2022, after a long battle with liver cancer.
Leroy was born on February 17, 1961, to the late Guillermo R. Munoz and Oralia P. Villanueva in Sinton, TX.
Leroy grew up in Ventura, California. He enjoyed playing basketball and hanging out with his friends. At an early age he was needed to care for his younger sisters and brothers while his mother worked. It was difficult but Leroy rose to every challenge. This led him to give assistance to others later as time and his resources allowed him. His father and Uncle David Gamez taught him to be a plumber and construction worker, he worked off and on with the Munoz and Gamez family businesses. Later he became a semi-truck driver. He loved to be on the open road. He traveled from the west to east coast. He won numerous awards for best driver and on-time delivery for his company. He like to read and watch western movies. He was a lifelong fan of the Astros and Texans.
Leroy was preceded by his parents, brother Marky Munoz, and sister Emma Munoz.
He is survived by his son, Carlos Munoz Vasquez and grandson Jackson Munoz; sister's Rachel Munoz, Debbie (Jose Fonseca), Cathy Munoz; and brother Thomas Munoz (Eva), step siblings: Veronica, Tomasita, Bibiana, and Guillermo Munoz, along with many adored nieces, nephews, and cousins.
A celebration of life service will be held on Saturday,October 8, 2022, at 10:00am, Emmanuel Worship Center, 2427 FM 528 Alvin, TX 77511
In lieu of flowers, the family asks that a memorial donation be made towards honoring his wishes. The internment and service will be at Ivy Lawn Memorial Park, Ventura, CA Summer 2023.
It was Leroy's wish to be interred with his mother and little brother.