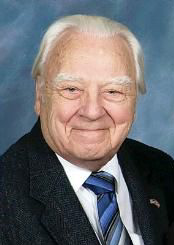 Lee, 95, died peacefully at the Bay Area Regional Medical Center on January 24, 2018. A Navy veteran of World War II, serving as a Radio Technician 1st Class (CPO), he was awarded the American Area, Asiatic Pacific Area, and American Defense Ribbons.
Lee was born on July 24, 1922 in Michigan City, IN to Raymond and Hilda Ruetz. He joined the USNR November 12, 1941 and was assigned to the USNTS Great Lakes, IL. He served during the war in the Pacific Theater of Operations in a classified role.
Lee was a brave and loyal sailor as well as a patient and loving father and husband. He lived his life as a strong example of faith and trust in God, treating everyone with kindness, respect and genuine interest in them. Lee never met a stranger, always eager to have a conversation with anyone who wanted to talk. Following his Honorable Discharge from the United States Navy in October of 1945 he enrolled in Valparaiso University, graduating in 1949. Part of his early professional career included working as technical director for the Kukla, Fran and Ollie show at the WGN network in Chicago. A natural mathematician and astronomy enthusiast, he found his life's calling as a NASA engineer. In 1963 he continued his service to his country in the space program at Johnson Space Center in Houston until his retirement in 1989.
Lee is survived by his wife, Jacqueline Satterfield-Ruetz, his children Karin Spence (Larry), Kristin Martinez (Rudy), and Eric Ruetz, his step-children James Satterfield, Jr. (Tay) and Lee Satterfield Turner (Mark), his grandchildren, Jason and Kim Hester, Fred Wilson, Kaitlyn and James Satterfield, and E.J. Turner, and great-grandson Jameson. He is also survived by his brother Ray Ruetz (Joy) and his sister Virginia Rosewicz.
Pastor Brian Weaver of Gloria Dei Lutheran Church, in Nassau Bay, TX will lead a memorial service in the chapel on Tuesday, January 30th at 2:00 P.M. Reception to follow. Lee will be laid to rest with a military honors service at Houston National Cemetery. In lieu of flowers, please make donations to the Norwegian Seaman's Church Houston at https://www.sjomannskirken.no/kirke/houston/en/give/.