LaWanda Lucille "Lorider" Medley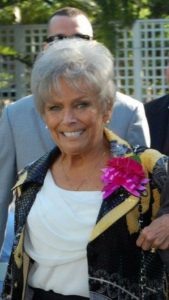 LaWanda Lucille "Lorider" Medley, 73, a forty-six-year resident of Santa Fe, passed away September 10, 2018, in League City.  LaWanda was born February 5, 1945, to Esther and Ordell Coombs in Pawnee, Oklahoma.  She will be remembered as a loving wife, mother, sister, aunt, grandmother, and friend.  LaWanda graduated from Texas City High School in 1963. She retired from Galveston MUD 1 after many years of service. She was a devoted member of the Fraternal Order of Eagles in Santa Fe, Texas and as well as a past secretary for the Galveston County Fair and Rodeo.  LaWanda was a loyal and devoted Astros fan.
Lawanda was preceded in death by her parents; husbands John Medley, Randall Speer, and Nathan Hale; and sister Violet Taylor-Melton.
LaWanda leaves behind to cherish her memory her daughter Paige Veron and husband Darryl; son Thomas "Fella" Speer and wife Laura; step-daughter Monica Hale; grandchildren Jackson Veron, Sadie Speer, and Nina Speer; and numerous nieces, nephews, and friends.
In her honor, the family will be receiving friends from 10:00 am to 12:00 pm, Saturday, September 15, 2018, at Crowder Funeral Home Chapel, Dickinson, Texas.