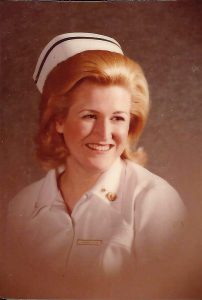 LaVeta Holmes McGary, of Texas City, Texas passed away Wednesday, September 27, 2017 at the age of 69. She was born October 5, 1947 in Texas City, Texas to Robert and Daphine Holmes.
LaVeta was preceded in death by her parents, Robert and Daphine Holmes, and Sibling Robert Gary.
She is survived by her husband William, son, Nathan Savchenko and wife, Dorinda, and four grandchildren, Carissa, Christopher and his wife Caity, Cailyn, and Cody. Her surviving siblings are Charles Holmes and wife Neva, Roberta Holmes Carter, and Robert Holmes Junior and wife Debbie. Laveta's family also includes many nieces and nephews that she loved immensely.
Funeral services will be held Tuesday, October 3, 2017 at 10am at Crowder Funeral home in Dickinson Texas 851 FM 517 Rd W, Dickinson, TX 77539 with burial following at Memory Gardens Cemetery, in Edna, Texas.
LaVeta graduated from High School in Las Cruces New Mexico in 1965. She attended College at College of the Mainland in Texas City and Nursing school at the University of Texas Medical Branch in Galveston. While there, she earned her Master degree in Nursing Education in 1978 and worked at the Danforth Hospital in Texas City. LaVeta began her teaching career at College of the Mainland in Texas City in 1978. She also taught Nursing at Lee College in Baytown. In 1990, she served as a consultant in Pakistan in the Karachi Adventist School of Nursing and served as the Principal there until 1996.
She returned to Texas City and continued teaching Nursing at College of the Mainland until her retirement in 2009. After retirement, she served faithfully in her local Adventist church in Texas City until her death.