Laurence Jackson "Jack" Landriault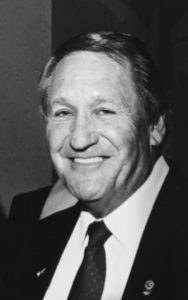 Laurence Jackson "Jack" Landriault (97) of Texas City, Texas, passed away on Thursday, July 15, 2021. He was born in San Francisco, California, on September 21, 1923, to Rachel Lora Arminda "Minnie" Hayes and Joseph David Landriault. Jack proudly served in the United States Navy during WWII. After serving, he pursued a degree in Industrial Engineering at USC and used what he learned to help construct the Frito-Lay and Sherwin-Williams plants in Dallas, Texas. He had been a resident of Texas City since 1966, was the owner and operator of his own business Ra-Jac Sales and Services, and acted as an HVAC engineer commercially and residentially for over 50 years. Jack was integral in the many humanitarian organizations he supported, including the Texas City Lions Club and the Lions Eye Bank of Texas. Of the many awards and positions held in his 20 years of Lion's Club membership, helping others was always Jack's proudest accomplishment, and was awarded lifetime membership in the late 1990's.
He is preceded in death by his mother and father, his wife; Neoma Landriault, and daughters Jacqui and Angela. Jack is survived, by his daughter; Lori Folse and husband Phillip, son; David Landriault and wife Christy, sister; Opal Shifflet, seven grandchildren; Jason James (Charlotte), Lindsey Dyer (Jimy), Phillip Shinn (Cayleigh), Jordan Folse, Nicholas Landriault, Kayla Blevins (David), Roni Ray, and four great-grandchildren; Conner Blake, Atticus Dyer, Callie Dyer, and Weston James and numerous other family members.
A visitation will be held on July 21, 2021 from 5:00pm to 7:00pm at the James Crowder Funeral Home in La Marque. A funeral service will begin at 2:00pm on Thursday July 22, 2021 at James Crowder Funeral Home; interment to follow at Grace Memorial Park in Hitchcock. Arrangements are under the direction of James Crowder Funeral Home in La Marque.