Larry Don "Bubba" Mitchell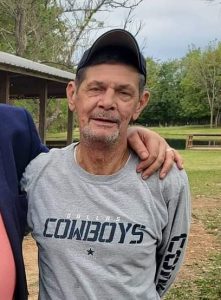 Larry Don "Bubba" Mitchell, 64 of Houston passed away on Sunday, June 18, 2023 in Houston. He was born March 31, 1959 to Carlis and Maxeen Mitchell in Jasper, Texas.
Larry worked for CNG of Katy, he was Champion Club AANA President for 2 years, and lived in Houston for 8 years. Larry was an avid sports fan.  He loved his Dallas Cowboys, drag racing and baseball.
He is preceded in death by his parents and daughter Heather Mitchell.  Larry is survived by his wife Jody L. Mitchell, daughters: Crystal Wise (Corey) and Amber Mitchell, son Donald Ray Mitchell, sister Debbie Frank (Norman), brother Larry Spurgeon (Sherrie) and his thirteen grandchildren: Joshua Anderson, Skyler Delaney, Landen Delaney, Christian Gonzales, Julian Gonzales, Jaiden Gonzales, Brian Baldwin, Brenden Baldwin, Cody Meadows, Jaxstin Hodowanic, Ian Martinez, Brayden Mitchell and Jared Mitchell and numerous nieces and nephews.
Visitation will be from 1:00pm-2:00pm on Sunday, June 25, 2023 at the Shiloh Missionary Baptist Church in San Augustine, Texas with the Funeral Service at 2:00pm. Burial will follow at Shiloh Cemetery. Arrangements are under the direction of the James Crowder Funeral Home in La Marque, Texas.
Pallbearers will be Michael Courcier, John Jay, Rick Sanchez, Norman Frank, Brock Ewing and Donald Ray Mitchell.
The family would like for you to remember Larry by wearing your favorite sports attire at the service!