Kyle Willis Betts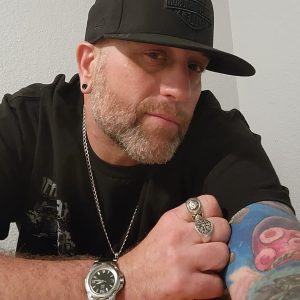 With sadness we announce the passing of Kyle Willis Betts of League City, TX on July 5, 2023.  He was born in Beaumont, TX on April 5, 1978.
Kyle attended Clear Creek ISD and graduated from Parkview Baptist School. He was Baptized in 1987 at Tusculum Hills Baptist Church in Nashville TN.  Kyle enlisted in the US Coast Guard and Honorably Discharged in 1999. He was a long-term electrician and member of IBEW 479 in Beaumont, TX.  He had a passion for working on electrical projects in the Beaumont, Houston, and SE Texas areas.
Kyle supported NA and AA.  According to Nova Recovery Center "He was a great House Manager that helped a lot of men stay sober and on the right path at Nova Recovery Center in Houston, TX."
Kyle is survived by his Father, Milton Eddy Betts (Victoria Betts) of League City, TX; Mother Carita Cook (Jesse Kohut) of Albuquerque, NM; Sister Amy Martin (Adam Martin) of Kountze, TX; Nieces Alexis Boettcher, Danielle French Clark (Travis Clark); Nephews Michael Lee (Shea Lee) and Trevor French; Great Nieces Arianna Bonner and Aurora Lee.
Kyle enjoyed the outdoors, being by the water, fishing, soaking in the sun, golf, cooking/grilling, playing video games and reading. He loved music. Some of his favorite bands were 311, Sublime, and Korn. Music was often his therapy. Driving and listening to music with the windows down in his Dodge truck was a daily occurrence. Kyle always wanted to feel free. His best times being free was when he was riding his motorcycle.  After a long work week, he'd get on his Harley and just ride. We all know that is what he is doing now.
A Memorial is planned at Walter Hall Park, League City, TX on Saturday, July 15, 2023 between 11 am and 2 pm.
In lieu of flowers the family request donations in memory of Kyle Betts to:
AA, NA, and Disabled American Veterans (DAV)