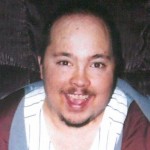 Kevin Ray Blagrave, 41 of Texas City passed away Tuesday, February 18, 2014. He was born in Baytown, Texas on April 14, 1972 to Jim and Mary Napoli Blagrave.
Kevin had a contagious never ending smile, he was an Eagle Scout in his early years and he was loyal to everyone he met.
He is preceded in death by his parents and sisters, Patti Blagrave and Veta Blagrave.
Kevin is survived by sisters, Mellissa Kelley (Glen) and Frances Chandler (Bill); brothers, James Blagrave II (Annette), William Blagrave (Debbie) and John Blagrave(Joanna); his Aunt Nancy Jean May; nieces and nephews; Glen Kelley III (Amy), Michael Kelley, Jason Kelley (Sommer), Kevin Kelley, Stephanie Kelley, Christopher Chandler, Mark Chandler, Amy Chandler, John Chandler, Tamara Lovan, Derek Blagrave and Christopher Blagrave; many great nieces and nephews, cousins and friends.
He was a devoted brother, uncle and friend to many.
Visitation will be Friday, February 21, 2014 from 2:00pm – 3:00pm at the James Crowder Funeral Home in La Marque. Funeral service will follow at 3:00pm at the funeral home with James Blagrave II officiating.
The family has asked that you please make donations to the Juvenile Diabetes Foundation.