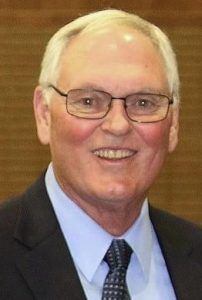 Kent Allen Streit passed away August 28, 2022, after his battle with cancer. He was born September 18, 1949, in Vernon, Texas to his parents Karl and Billie Streit.  He was raised on his family's farm in Lockett, Texas.  After graduating from Lockett High School, he attended Austin College in Sherman, Texas where he received a Masters Degree in Education in 1973.  He taught World History in both Richardson and Spring Branch I.S.D. He then worked for Brown & Root/KBR for over 35 years.
He is survived by his Wife Christine, Son Karl Allen, sisters Karen married to David Love, Kelly married to Rick Kyle, and Kim Streit. Stepchildren, Stephanie married to Michael Cody parents of, Spencer and Jackson. Bob married to Melanie Carl, parents to Brynn, Ansley, and Levi.
Kent was blessed with remarkable family members, relatives, friends, schoolmates, teammates and workmates throughout his life.  He considered it one of God's greatest blessings that enriched his life to be surrounded by these amazing people.  He had a deep love and appreciation for Christine and Karl Allen as they supported and cared for him during his struggle.  Kent had a wonderful life and some of God's blessings that he enjoyed included, traveling the U.S. with Christine, playing golf with his buddies, golf balls, golf clubs, golf shirts, golf bags.  Also, good movies, the food channel, the Dallas Cowboys, the St. Louis Cardinals, his usher team, baking cookies, his pets, growing up on the farm, the Masters on CBS, and morning glories.
PLEASE HAVE FUN EVERYDAY!
For those wishing to view the funeral service online, Livestream link: https://gdlc.online.church/
In lieu of flowers, the family requests that donations be made to the Gloria Dei Lutheran Church Endowment Fund.
To give online, click here, select Memorial/Remembrance Gifts from the drop-down list, and write "Kent Streit – Endowment Fund" in the comment field.
If writing a check, please include "Kent Streit – Endowment Fund" in the memo line.