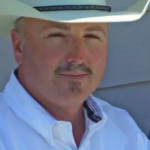 Kenneth Jay Johnson
Devoted husband, father, brother, papa, uncle, and friend passed suddenly from this life on Wednesday, October 15th, he was 51. Kenneth was born July 4, 1963 in Galveston to Herman and Catherine Johnson. He graduated from High Island High School.
Kenneth met the love of his life Robbie Granger and was married 25 years. They had two sons Aarron – 24 and Payton – 21.
He is preceded in death by his parents Herman and Catherine Johnson. He is survived by his wife Robbie Johnson; sons Aarron Johnson and fiancée Destinee Kahla, and Payton Johnson; daughters Chelsee Burkham and husband Mitchell, and Destinee Gonzales; grandchildren Lane Johnson, Reese and McKenzee Burkham, and Kimber Johnson due to be born February 9, 2015. Also survived by brothers Glenn, Hershel, Percy and sister Karen Johnson; several nieces, nephews, friends and especially his Team Inc. family and friends.
Visitation will be Sunday October 19, 2014 at Crowder Funeral Home Dickinson, TX from 5-8pm. Funeral services will be Monday October 20, 2014 at 10:00 am in the chapel of Crowder Funeral Home Dickinson, TX with Pastor Del Toler officiating. Interment will be at 2:00 pm at The High Island Community Cemetery in High Island Texas.
Pallbearers for Kenneth will be Aarron Johnson, Payton Johnson, Glenn Johnson, Hershel Johnson, Percy Johnson, and Hal Barrow. Honorary pallbearers are Chris Ingram and Josh Sternadel.