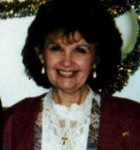 Kay Joyce McMartin, 75, of Nacogdoches, Texas, passed away on Saturday, March 8, 2014. She was born on September 6, 1938 to Charles and Elsie Everding in Castlewood, South Dakota. Kay worked as a caregiver for people with disabilities, and she retired from the Amoco Oil Refinery in Texas City, where she worked in the Record Information Center. Kay was a member of the Gulf Coast Four Square Church in Hitchcock, for many years.
She is preceded in death by, her mother and father, her sons; Kim Joel Petershagen and Terry Lynn Petershagen, and her granddaughter Amy Michelle Petershagen. Kay is survived by, her two daughters; Deb Stephenson and her husband Steve of Santa Fe, TX, and Robin Miller and her husband Nathan of Midlothian, TX, and her four sons; Jerry Petershagen of La Marque, TX, Greg Petershagen and his wife Janette of Alvin, TX, Todd Petershagen of Nacogdoches, TX, and Shon Petershagen and his wife Sue of Madisonville, TX. She also leaves behind her grandchildren, Jason, Miranda, Timothy, Arron, Mandy, Lyndsey, Stephen, Ashley, Dustin Ericka, Amy, Jessica, Raechel, Justin, and Tracey as well as sixteen great-grandchildren.
Visitation for Kay will be held on Wednesday, March 12, 2014 from 6:00pm to 8:00pm at the Crowder Funeral Home in Dickinson. A funeral service will be held on Thursday, March 13, 2014 at 2:00pm at the Crowder Funeral Home, with Pastor John Elliott officiating.